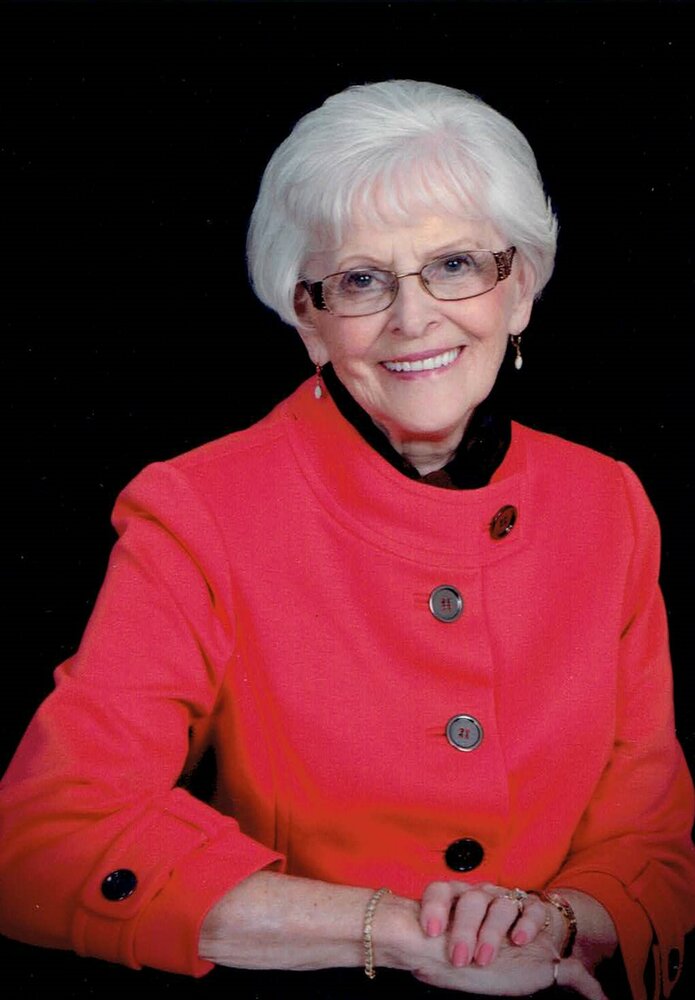 Obituary of Jessie Katherine Tyrrell
Jessie Katherine (Voth) Tyrrell
Taking the hand of her loving Heavenly Father, Jessie stepped into her eternal home on Monday, August 14,
2023 with family and caregivers, Robert and Joan Sider at her side.

Jessie was born on October 20, 1935, the youngest of six girls. She always reminded us that they shared one
bathroom and plenty of fun as they were raised in Port Rowan and then Simcoe, Ontario. Her parents, John
and Mary (Lodde) Voth, provided loving care as part of the growing Russian Mennonite community of
immigrants from what is now Ukraine.

Jessie made her mark on our world with her faith in Jesus, and her smile! Following seminary at Central Baptist Seminary, she said "yes" and married her beloved Thomas. They loved and served one another all of their 56
years of married life. Tom joked that Jessie said, "Marry me and fly free," although it was actually a few years
after their marriage that Jessie began her career with Trans-Canada Air Lines (TCA) – now Air Canada.

Jessie's beautiful smile at the check-in gates of Pearson Airport melted the fear of any traveller's faint heart.
Courteous, intelligent, and professional, it was Jessie's kindness and empathy that management recognized
and rewarded with special staff counselling assignments. After working many years in Toronto and Abbotsford,
she semi-retired with Tom to Florida where she loved being a teacher's aide at a church nursery school. In
2010 they completed their retirement by moving back to Canada, settling in Ridgeway, Ontario.

Jessie lost a good bit of her adventurous life and spirit when Tom passed away in 2015. Jessie's parents, a
brother, Edward, and four of her sisters (Velda, Mary, Alice, Helen) also pre-deceased her.

Surviving is her special sister, Lydia (Petker/Reimer), four years her elder, whose loving care and devotion for
Jessie has been remarkable all her sister's 87 years. Thanks to Lydia moving from Port Rowan, they even shared
the same residence at Garrison Place in Fort Erie for the last year.

Also surviving are Jessie's loving in-laws, Frederic and Faye Tyrrell, and Robert and Joan Tyrrell. A
brother-in-law, Desmond Tyrrell, passed away in 2014 leaving his wife Viola who very recently passed away on
July 29, 2023.

Along with a host of friends and cousins from around the world, Jessie's 12 nieces, nephews and their families
will fondly remember an aunt who has been described as a classy, charismatic, loving partner; a hospitable,
blessed woman, dressed to impress – who can forget the beautiful nails and coordinated outfits? Most of all –
a great sense of humour to put up with Uncle Tom's "shenanigans!!"

Jessie's family wishes to thank Joan and Robert Sider – and their family – for sharing life in care and love for
Jessie to the end. Special thanks also to Dr. Scher, Sarah and staff at Garrison Place Retirement Residence in
Fort Erie.

There will be a celebration of Jessie's life on September 9th, 2023 at 11 o'clock at the Golden Harvest Baptist
Church, 3130 Point Abino Rd., Stevensville, Ontario. For those unable to attend, the service will be livestreamed on the church Facebook page https://www.facebook.com/profile.php?id=100064677574160. Reception to follow. Williams Funeral Services, Ridgeway ON, entrusted with arrangements.

If you wish to share in Jessie's concern for our world, you may do so by donating to her favourite charities:
Samaritan's Purse, Canada: https://www.samaritanspurse.ca
Trans World Radio, Canada: https://www.twr.ca
ShareWord Global (The Gideons of Canada): https://sharewordglobal.com/ca/


Finding Us



Williams Funeral Services
722 Ridge Road N.


Ridgeway, ON




L0S 1N0