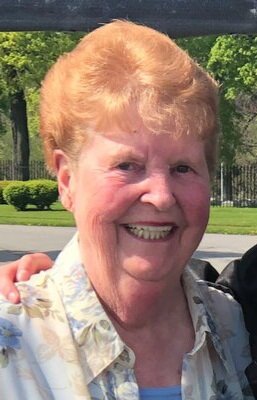 Obituary of Sharon Maxine Gullion
GULLION, Sharon Maxine - It is with profound sadness that we announce the passing of our mother, sister, Nana, Great-Nana and friend, Sharon Maxine GULLION (nee FRASER) in her 82nd year, on May 24th, 2023, at the Douglas Memorial Hospital in Fort Erie., after a brief illness. Sharon was born on March 3, 1941, in the City of Niagara Falls, Ontario to her loving parents, John and Charlotte Fraser, whom she will now be reunited with. Mom is survived by her only brother Gordon Fraser.

Sharon leaves behind her family, whom she loved and was very proud of. There are many that will grieve the loss of this strong-willed lady including her children John GULLION (Sandy), Tom GULLION (Nicole), Colleen CUVIELLO (Joe) and Randy GULLION (Laura). Also surviving are her grandchildren, Nikita, Tia and Natasha GULLION, Brandon, Dylan and Tristan GULLION, Tyler, Zachary and Fraser CUVIELLO and Spencer and Alysha GULLION. Sharon was also blessed with three beautiful great-grandchildren, Dallas ROSS, Caiden CUVIELLO and Parker CUVIELLO.

Those that knew mom, know how much she loved her "little log cabin in the woods". Her home was her sanctuary where she would garden relentlessly, have breakfast with the many birds that visited her daily and chat with the neighbours that surrounded her. Many a day she could be found puttering in the yard with her gardening gloves, rubber boots, hose and wheelbarrow.
Mom was a lover of all animals. It was a very difficult day for her when she lost her four-legged companion, Riley (her Irish Wolfhound) and her two-legged companion Matilda (her chicken). She filled the losses by making friends with the many dogs that walked in the neighborhood; offering them treats and a drink of water along the way. Her home was a neighborhood favourite.
Mom was as "honest as the day was long". She always told the truth even if it wasn't what you wanted to hear. Her extensive vocabulary included more curse words than most people learned in a lifetime and she would use them when appropriately necessary. This highly skilled vocabulary offered words of encouragement, wisdom and sometimes comfort that kept us kids in line, taught us the "school of hard knocks" and provided us with many, many memories. Everyone knew where you stood with mom. She would never hesitate to tell you if she admired you or didn't. Her lifelong friends can confirm that. Mom was affectionately known to all that knew and loved her as "Mamadoons" and she offered love and support to many of her children's friends over the years.
After having her children, mom started her career working as a legal secretary for Al McBain and the Honourable Judy LaMarsh. After some time, mom moved into the hospitality industry where she had the pleasure of meeting several lifelong friends. All who loved her will never forget her tenacity, wit, charm and undying love for her friends and family. Mom was an avid softball player in her younger years, often taking her kids to the field to watch her move at "lightning" speed through the bases. If she was not playing softball, she could be found catching worms after dark with a flashlight so she and Randy could go fishing in the early morning hours. Sharon was NOT your typical conventional mother.

We will forever be indebted to the exceptional care provided to our mom by her family doctor, Dr. Kim Scher and the many, very patient nurses and PSW's, working for the Niagara Health System in both Welland and Fort Erie. Your compassion and expertise helped us through this very trying time.
Funeral arrangements have been entrusted to Williams Funeral Home, 722 Ridge Rd N, Ridgeway. Visitation with a combined celebration of life will be held at the funeral home on Thursday June 1st from 4pm - 8pm. Please come and join her family to honour and celebrate her life, share your many stories, and offer your love and support to those that loved her dearly. Mom, you will be missed daily and loved forever. May you find peace in the heavens above with all those you have previously lost and loved. Until we meet again you will be forever in our hearts.


Finding Us



Williams Funeral Services
722 Ridge Road N.


Ridgeway, ON




L0S 1N0