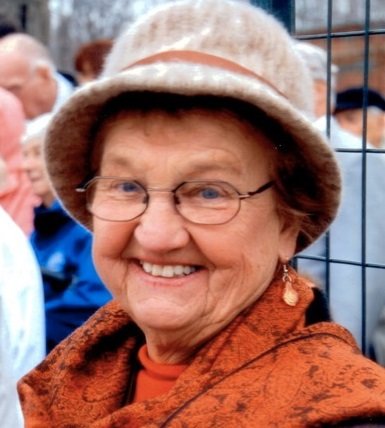 Obituary of Betty Kaethe Goos
Betty Goos (nee Sellnies) born May 5, 1931 in Heydekrug, Memelland, East Prussia, passed away peacefully July 16, 2021 in Toronto at 90 years of age. She will be dearly missed by her sister Inge Bauman of Niagara Falls, daughter Lisa (David Rose) of Toronto, son Mark (Rachelle Lavergne) and granddaughters Erika and Melaina of Edmonton, as well as countless friends and family in Fort Erie, across Canada, the US and Europe. Betty was predeceased by her husband Carl, her parents Maria and Heinrich Sellnies, her sister Meta Wellenreiter, sister and brother-in-law Edith and Fred Hartmann, and brother and sister-in-law Gustav and Helga Sellnies.
Betty's early years were tremendously disrupted by the events of WWII, which forced multiple migrations from their home in the Paszieszen district of Memelland and resulted in the family arriving as refugees in a newly established West Germany. These painful events shaped much of Betty's emotional narrative, but also demonstrated her resilience, independence and fiery spirit. Photos from every phase of her life show a great smile, a wealth of charm and elegance, and a love of fun, especially if it included dancing.
Upon her arrival in Canada in February 1959, Betty quickly decided that working for herself would be the best course of action for the future, and undertook beautician training in Toronto while learning English at night. She then made her way to Ridgeway to join Edith, Fred and their three small children, Linda, Christina and Elizabeth. She opened her own beauty shop with an apartment above – Bettina's Hairstyling – in Ridgeway circa 1962. Her marriage to Carl Goos, the son of the local Lutheran pastor, in 1963 settled her in Ridgeway for the next 50 years.
Betty loved spending summers swimming in the backyard, or travelling the continent, returning to Europe whenever possible. In 1996 she published a book about her life experiences called 'Fleeing Home'. The book deeply touched others in the German/Prussian diaspora, and she spent the last week of her life at home reviewing the many cards and letters she received from readers all over the world.
The family extends great gratitude to the staff at North York General Hospital, particularly the palliative care team, and the staff at Amica Bayview Gardens.
A celebration of Betty's life will be held on Saturday, July 24 at 11:00 am at St. Luke's Lutheran Church in Ridgeway, followed by an interment in Emmanuel Lutheran Cemetery in Sherkston, Ontario. Covid regulations require guests to register in at the Church upon arrival. Capacity limits are in effect and will be restricted to 75 attendees. Masks must be worn at all times and guests must remain 6 feet apart. For those unable to attend, a recording of the service will be available on the Williams Funeral Services website for viewing at your convenience by end of day Sunday. Donations in lieu of flowers may be made to the NYGH Foundation (https://nyghfoundation.ca/) or St. Luke's Lutheran Church in Ridgeway (245 Prospect Point Rd N, Ridgeway, ON L0S 1N0). Online condolences and memories may be left at www.williamsfuneralservices.ca


Finding Us



Williams Funeral Services
722 Ridge Road N.


Ridgeway, ON




L0S 1N0