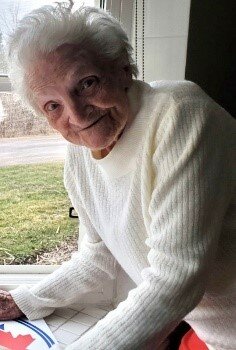 Obituary of Gertrude Biggins
Biggins,Gert (nee Miller), born March 22,1921 passed away peacefully at Greater Niagara General Hospital on December 28,2022, in her 102nd year. Life-long resident of Stevensville.
Predeceased by husbands Allan Woehl (1973) and Roy Biggins (1995) and infant son Norman (1943).
Also predeceased by siblings: Maxine (Orin Miller), Edla (Henry Miller), Hilda (Paul Whitman), Carlton/George (Jean)Miller and Charles/Walter (Mildred) Miller; and in-laws: Bud and Evelyn Woehl, Russell and Ethel Woehl, Margaret and Don Plyley and Helen and John Barich.
Survived by sister-in-law Marlene Woehl and generations of nieces and nephews of the Miller, Woehl and Biggins families.
Gert, fondly remembered as everybody's Aunt Gert, worked at Fleet Industries where she was an iconic "Rosy the Riveter".
Gert was a star baseball player for 33 years for local teams including the Erie Motors Lassies and the Stevensville Stevettes, where she played centre field into her 60's. She loved to manage the Toronto Blue Jays from her living room - hockey just filled time between baseball seasons.
A member of Faith Reformed Church, she supported many community organizations and was recognized as an honorary fireman by the Fort Erie Fire Department for funding equipment to help the people of Fort Erie for years to come.
Thanks to the Sider, Plyley and Miller families, Dr. Che, Meals on Wheels and all those who helped Gert stay in her home until she moved to Garrison Place a year ago.
A graveside service will be held on Saturday January 14,2023 at the St. John's Cemetery Snyder at 10:30 a.m.
Memorial donations can be made to the Faith Reformed Church, Black Creek.