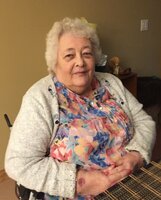 Ann Edith Wright
It is with great sadness that we announce the passing of Ann Edith Wright on March 30th, 2023.
She is predeceased by her loving husband and best friend, Trevor Wright. She is survived by her son Neil Wright and her daughter Katie Kuhn (Craig). Grandchildren include Kaitlin Meier (Matt), Carla Kuhn (Kieran), Kristen Kuhn (Brett), Justin Kuhn, and Rachel Kuhn. She is also survived by three beautiful great granddaughters Eden, Ellie, and Noah Meier. Her loving sister-in-law Pamela Connelly resides in England.
Mum was an elegant, quiet, and stoic lady who shied away from small and large groups of people, preferring one on one interactions with her family, friends, and personal support workers. She was bright and articulate, always willing and able to share her wealth of knowledge on so many topics as well as her most treasured memories, especially those of her life with Trevor.
The family will be forever grateful that mum was able to spend the last seven years of her life living at home with Katie, Craig, and the grandchildren, being a part of the daily 'hustle and bustle' of family life. She greatly appreciated the abundance of wildlife outside her window and many discussions were held regarding deer, turkeys, coyotes, foxes, bunnies, and birds. This brought her great joy and peace.
We would also like to express our gratitude for the daily ongoing care provided by all the PSWs who came into her home. In particular, we recognize the love and support provided by Catherine in the years past, and more recently, by Doris and Amanda. These ladies were truly amazing.
The celebration of life will be held at Williams Funeral Home on Saturday May 27th at 11am.