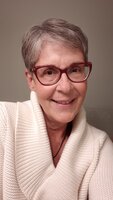 Joan Stoll
Joan Elaine Stoll (Roth) passed peacefully at home on the evening of August 18, 2022 with family beside her, accompanied by her favourite harp music and the song of the crickets outside.
She was born on March 30th, 1952 in Stratford, Ontario to Donald and Grace Roth (Beehler). As their eldest daughter she could always be counted on by her siblings and the rest of her large family for loving support, wisdom and advice.
She began her career as an OR nurse at GNGH and worked in the health care field for two decades before helping to launch a family business.
Joan loved to spend time in her garden and in nature. She had a gift for finding heart shaped rocks, making friends with strangers and finding "sisters from other mothers" wherever she went.
She was an avid biker, riding through nettle patches and across Germany and France with her sis, Julie. Her winters were often spent hiking and scaling tall peaks with her husband, Mike, near their second home outside of Tucson, Arizona.
She loved and was loved deeply by her family, even when their views didn't always align. She was a shining example of healthy living, fierce determination, positive attitude and trust in good things about to happen.
Joan is survived by her dear mama Grace, husband Mike, daughter Jennifer (Trevor), granddaughter Eden and son Kevin. Sister to James (Julie) Roth, Cathy (Ralph) Bankert, Daniel (Lori) Roth, sister-in-law to Sieghart (Andrea) Stoll, Aunt to Darrel (Stacy), Sarah (Clarke), Lianne (Reed), Luke, Ben, Dennis and Matthias. Great Aunt to Travis, Lily, Addison and Wyatt. "Frister" to Janet.
We expect her to fly with her bluebirds for a few days before joining her father Donald, father and mother-in-law Otto and Elizabeth, nephew Matthew, niece Kerrin and other beloved ancestors on the other side.
A private celebration of life for immediate family and close friends will be held in Willoughby field on Tuesday.
Others wishing to celebrate Joan's life are asked to plant a tree in her memory or to make a memorial donation to A Living Tribute (alivingtribute.ca)