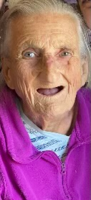 Bertha Kingston
It is with heavy hearts that we announce the passing of Bertha Ellen Kingston (Main) who passed away Monday, January 10, 2022 at Cambridge Memorial Hospital at the age of 89 Years old. Bertha was born January 4th 1933 in New Brunswick to her late parents Charles Main and Mable Fraser. Predeceased by her loving husband, Gordon Kingston. She will be missed by her children Tracy, Michael and Grace (Mike) and her step children Paul (Jodi) and predeceased Doug (Louise). She will be missed dearly by her grandchildren who called her Nanny; Tanya (Ryan), Nicole (Ian), Kirk, Melanie, Cory, Davis, Brittany (Andrew), Trevor, Gordon (Kerrin), Vanessa (Danny), Kelsey (Abel), Shannon, Jacob, Tyler and Ryan and her great grandchildren. She is also survived by her brother Harry and sister Julia and predeceased siblings Ida, Leona, Connie, Charles, Alymer and Emerson.
Bertha was a strong woman who tried to live life to the fullest. She was a family lady who always put everyone first and adored watching children. She lived in Crystal Beach most of her life and was very active at the Legion where she enjoyed spending time and helping the Lady's Auxiliary prepare for special events (nobody could peel a potato like her). Bertha loved to bake, garden, help others and spending time in the outdoors, specially camping. She is best known for her generous nature, homemade bread, big pot of beef stew and holidays will never be the same without the taste of her delicious ham gravy.
Bertha will live on in our memories forever and will be deeply missed by everyone she touched.
Williams Funeral Services, 722 Ridge Rd N, Ridgeway entrusted with funeral arrangements. Visitation will be based on availability and be held on Tuesday January 18th, 4-5pm. Due to covid restrictions, a private memorial service, by invite only, will take place in the chapel at 5:00 p.m. The service will be live streamed on the Williams Facebook site for all to view. Burial to follow at Ridgeway Memorial Cemetery on Wednesday January 19th at 10:00am.
Covid 19 protocols now require individuals wishing to attend the visitation to reserve a spot by calling 905 894-1161 from 9 am to 4 pm or through email at staff@williamsfuneralservices.ca Please remember mandatory masks, social distancing and capacity limits are in place.