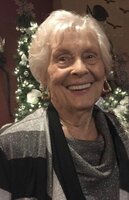 Marjory Thelma Nicholl
Nicholl : Marjory T.

Surrounded by her family and friends, Marjory passed away on October 1st, 2021 at the age of 93. Marjory was predeceased by her husband Jimmy (1970)

Loving mother of Scott, mother in law to Julia and proud grandmother of Sydney all of Ridgeway Ontario.

Marjory was the daughter of Lloyd and Myrta Davison and grew up in Orangeville Ontario. She spent most of her life living in Toronto with a variety of careers from Child Services to Office Manager. Marjory spent the majority of her retirement years enjoying her home in Naples Florida. It was there she took up golf, darts and Mexican train.

In her final years Marjory took up her original passion, oil painting and in two years created over 75 canvasses.

Marjory will be fondly remembered by her extended family and friends in here and those that she spent many wonderful years with in Florida.

Julia, Scott and Sydney were helped immensely these last days by Julia's s

isters Irene and Maria. We would like to commend and share our immense gratitude to Dr. Scher and Shelley Gagnon who led our palliative team that helped us with exception care and compassion to Marjory.

Williams Funeral Services 722 Ridge Rd. N. Ridgeway entrusted with arrangements. The family will receive friends on Monday October 4th from 6-8. Funeral Services in Ridgeway will be held in the funeral home Tuesday at 11 am, livestream on Facebook Williams Funeral Services. Funeral Services in Toronto will be held graveside at Highland Memorial Gardens at 11 am. Covid 19 protocols constantly in place, including mandatory masks, social distancing and indoor capacity restrictions. If so desired, donations to the Canadian Cancer Society would be appreciated by the family.