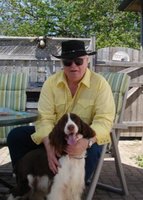 Mike Epworth
It is with heavy hearts we find ourselves suddenly saying goodbye to Mike Epworth. From his home in Stevensville on March 23, 2021, Mike left us behind to join his beloved wife Joanne (Doerr) whom he missed so very much. He also leaves behind many friends, relatives, and neighbours, some near and some far. He's now also with his parents, Jack and Hilda Epworth, his sister, Noreen Sergovitch, and missed so dearly by his other sisters Lillis Dawson and Jacki Epworth, his many nieces and nephews, and his best buddy Farley, who was always by his side.
Mike filled his 79 years on Earth in a variety of ways: he clocked many miles (NOT kilometers) on hockey skates, as a teenager flinging newspapers up onto porches from his bicycle, on sailboats, in canoes, in golf shoes, at the top end of a leash, behind the wheel of his many vintage cars and trucks, or walking round his model train. When he wasn't truckin' in his cowboy boots and cowboy hat, he was either falling into a pond on the golf course or falling out of a tree.
A small graveside service will be held at 2:00 p.m. on Wednesday March 31, 2021 at St. John's Lutheran Cemetery, on Sodom Rd , Stevensville, ON. Due to current COVID-19 restrictions, anyone wishing to attend must first notify the funeral home by 4 p.m. Tuesday at 905-894-1161 or info@williamsfuneralservices.ca . Only those with reserved spots will be allowed to attend.
Online condolences and memories may be shared at williamsfuneralservices.ca Donations in Mike's memory may be made to Hope for Wildlife hopeforwildlife.net/donations